---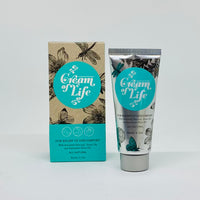 Olieve & Olie began in 2000 on a 15 acre property on the banks of the Gunbower Creek, 50km west of Echuca. Andy & Jude planted 2000 olive trees, from these trees came Jude's first batch of olive oil soap.
In 2010, Andy & Jude sold their grove and moved to the Mornington Peninsula. Olieve & Olie continued to grow. They still sourced their olive oil from their old grove, maintaining the connection and quality of all their products.
This all-natural specially formulated cream will sooth, nourish, hydrate and  reduce the redness from scars and blemishes. Using Australian extra virgin olive oil, activated charcoal and green tea. This is suitable for all skin types, including sensitve skin.
Size // 80ml tube
Ingredients // Water, Olive Oil, Urea, Green Tea, Stevia Leaf Extract, Activated Charcoal, Fruit Oil (Organic) Beeswax, Potassium Olivoyl Hydrolized Wheat Protein (Emulsifying Wax), Cocoa Butter, Borax BP, Rosemary Officinalis Oils, Parfum and Essential Oils