Popcorn on the cob
Snack food that is healthy, fun, delicious and sustainable? Yes, please!
Planted in super healthy soil, hand picked on the family farm in northern Victoria and allowed to dry - and you have a sensational one ingredient snack food
Buy Now
---
Gourmet goodie hampers - a gift with heart
---
Family Farmed & Small Batch - From right here in the North East of Victoria.
We're about so much more than just olives! From our beginnings 18 years ago selling local farmer's olives and fresh farm-pressed olive oils, The Olive Shop has grown to showcase some of the best locally grown and crafted produce in Australia.
We specialise in family farmed, small batch, local products - that taste fantastic and support our small Australian producers!
Come and visit us in the Milawa Gourmet Region, or enjoy these gourmet goodies delivered direct to your pantry. We know the taste and quality will wow your tastebuds, family and friends.
Platter and picnic perfect!
It is our mission to get you picnic and platter perfect this summer, always using fresh, seasonal ingredients as well as our local hero products and aiming for a '10' on both the wow-o-meter and on your taste buds. Check out the gourmet goodies below for some picnic local hero inspo!
---
Picnic & platter local heroes
---
Our local hampers are our absolute bestsellers!
A truly special gift that celebrates regional producers, Australian products and supports rural communities. Each hamper is:
* lovingly packaged in our handmade wooden crate (small or large), which looks fabulous but also mades great pantry storage when the goodies are eaten
*selected to include a mix of local goodies to build the best antipasti plate and to add a little local sparkle to dinner with friends
*able to be completely personalised. Simply let us know if you wish to swap one product with another, or add something special like a bottle of King Valley wine, for a truly thoughtful gift
Build your own hamper is also available - simply pick a build-your-own box and add your goodies to your cart. We will pack your personalised hamper with love and care.
Interested in Corporate gifts and hampers? Check out our Corporate Hampers page for more info.
---
Looking for a flavour-bomb? Try an infused oil!
---
A bit of pickle, chutney, jams & sauces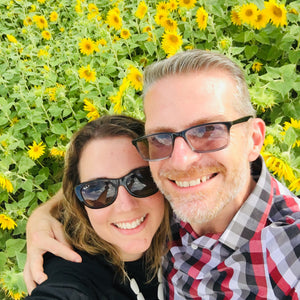 A little about us
We are Ian and Nathalie and we have a passion for Australian, family farmed, small batch, regionally produced food that supports our farmers and communities - and tastes fantastic.
We can't wait to stock your pantry and cellar.