---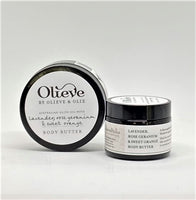 Olieve & Olie began in 2000 on a 15 acre property on the banks of the Gunbower Creek, 50km west of Echuca. Andy & Jude planted 2000 olive trees, from these trees came Jude's first batch of olive oil soap.
In 2010, Andy & Jude sold their grove and moved to the Mornington Peninsula. Olieve & Olie continued to grow. They still sourced their olive oil from their old grove, maintaining the connection and quality of all their products.
This Body Butter is a thoroughly decadent rich and creamy blend of organic butters, waxed and oils. Ideal for those who suffer from dry sensitive skin conditions and need a serious cream to moistruise, nourish and protect. 
Sizes // Available in 100ml and 250ml tubs
Fragrance // Lavender, rose geranium and sweet orange
Ingredients // 100% natural, hero ingredient is Australian Extra Virgin Olive Oil - contains Australian Extra Virgin Olive Oil, Water, Avocado Oils, Wheat Germ and Grape Seed Oil, Calendula Infused Oil, Organic Beeswax, Cocoa Butter, Borax, Essential Oils