---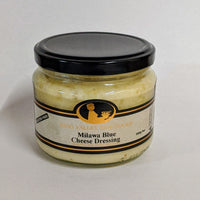 King Valley Fine Foods make their extensive range of pesos, relishes, mayonnaises, chutneys, dips, vinaigrettes, pates, reductions and glazes in Whitfield, in the King Valley north-east Victoria, using many local ingredients when in season. Their range contains no artificial additives and is gluten free and dairy free*. We are often surprised by a new product that's been inspired from a fresh ingredient that's just become available and made into something delicious.
*The exception to the rule is this product! Please note that the Blue Cheese Dressing contains dairy.
Inspired by local businesses Milawa Cheese Co, and Milawa Mustards, this dressing was created and is rich and creamy with that blue cheese hit. Dip your BBQ'd buffalo chicken wings right in, use as a sauce on steak or as a salad dressing.
Ingredients // 

Allergens // contains dairy, egg free
Size // 300g