---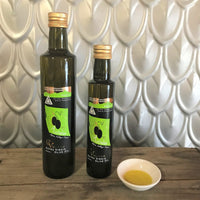 EV Olives is located just around the corner at Markwood, north east Victoria. They source their olives from 35 groves across the Alpine Valleys and extract the oil with minimum intervention.
Our larger cask sizes are perfect for the enthusiastic home preserver, for restaurants or in catering quantities.
TASTING NOTES // An aromatic oil with a slight pepperiness and fruity finish.
PERFECT PAIRING // This is a great every day oil, perfect for stovetop cooking and slathering over your roast meat and vegetables before popping into the oven.
SIZES // Available in 250ml, 500ml bottles as well as 2 litre, 4 litre and 10 litre casks.