---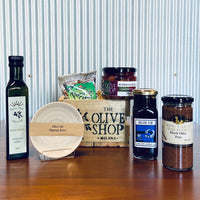 Feeling lazy? We love a lazy Sunday, especially now that winter is coming to an end and the sun is out! For us lazy Sunday's are for sitting in the sun with an amazing plate of food, a glass of wine and enjoying the company of family and friends. We hope this hamper helps you find your perfect lazy Sunday!
This hamper contains:
The Olive Shop - Olives (Kalamata, Taggiasca or Manzanillo)
Dawn View – Extra virgin olive oil
King Valley Fine Foods – Black olive pate
Blue Ox - Lime date chutney
Pumpkin Seeds Australia - Pumpkin seeds (lightly salted)
Andrew Cope Pottery – Olive oil dipping bowl (small)
This hamper is beautifully presented in The Olive Shop's handmade small wooden crate, which makes for perfect pantry storage after the goodies are eaten.
A gift message can be provided with your hamper. Please leave your message in the "Special instructions for seller" text box in the shopping cart before checkout and we will pop it in.
(Note: all price labels will be removed from hamper items before packing)